Slovácko defeated Vyškov 6:1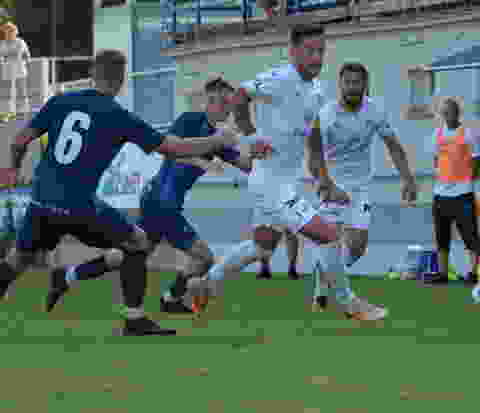 Slovácko defeated Vyškov 6:1 in the first preparatory match. Slovácko scored 2x Cicilia, 1x Jurečka, Kalabiška, Mareček and Vecheta.
Slovácko entered the match actively, but the chances of Holzer, Šašinka and Jurečka were not aimed between the three bars.
On the other side, the newcomer from Vyškov had a great chance when Simr encouraged Vintr to score, but he failed to finish.
In the 40th minute, the first goal of the match came when Šašinka got free on the left side, who passed the ball to Havlík and he encouraged Jurečka to score - 1:0.
At the beginning of the second half, Filip Nguyen had to show his skills as he defused a quick break by the guests.
In the 50th minute Jan Kalabiška was pulled down in the penalty area and the subsequent penalty kick was converted by Cicilia - 2:0.
Slovácko dictated the pace of the game and created more chances. Tomic's shot did not end in a goal, but in the 66th minute Vecheta got free and sent a pass to Kalabiška, who sent the ball into the net - 3:0.
Filip Vecheta also had an assist on Slovácko's fourth goal, when Daniel Mareček scored in the 70th minute.
The visitors from Vyškov were happy with the goal at 1:4, when a telegraphed shot ended up behind Nguen's back.
The fifth goal came in the 80th minute when Cicilia scored after a quick combination of Tomič and Mareček - 5:1.
In the 87th minute, Filip Vecheta also scored, first with a header into the bar, but the subsequent finish ended up in the net - 6:1.
Slovácko - Vyškov 6:1 (1:0)
Slovácko 1st half: Bajza - Divíšek, Daníček, Reinberk- Holzer, Kudela, Srubek, Havlík, Navrátil - Šašinka, Jurečka
Slovácko 2nd half: Nguyen - Šimko, Pernica, Merdovič - Kalabiška, Mareček, Sadílek, Polášek, Tomič - Cicilia, Vecheta