B-team lost to Rapid Vienna 3:4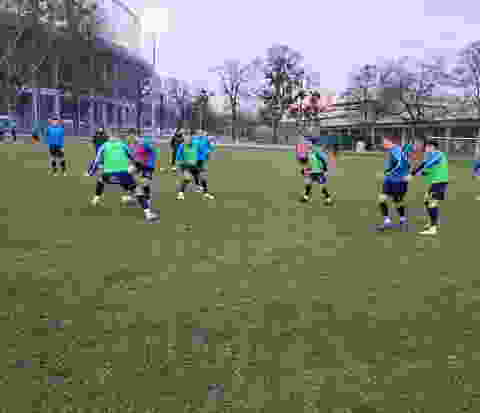 After fulfilling all the obligations with regard to epidemiological measures, the Slovácko B-team played a match of a very good level at the ground of the participant of the 2nd Austrian league Rapid Vienna. The match was played on the natural lawn of the training centre under artificial lighting.
From the beginning, the match was played at a high, unusual pace for us, when the home team kept the ball in their possession, which they confirmed with the opening leading goal,
In the first half we were pulling the short end of the stick, yet we managed to equalise after good cooperation between Divíšek and Rezko and Timur finishing. Unfortunately, we conceded a second time, after a foul on a penalty corner.  
In the second half it was an even match, we improved our movement and were the better team, unfortunately after a corner kick the home team went 3-1 up.
This gave our players a healthy boost and we managed to respond from standard situations, first Polášek's shot was hit by Divíšek and Srubek equalised after a corner kick by Polášek, when he gave the home goalkeeper no chance with an uncatchable bomb.
As it happens, you don't give - you get, instead of a 4:3 lead after an independent break by Juroška, who was saved by the home goalkeeper, the home team decided after a hesitation after a bad kick.  
Despite the loss, we appreciate the opportunity to play such a match.
Rapid Vienna B - 1.FC Slovácko B 4:3 (2:1)
Goals: 34.Meleketsev, 64. Divisek, 76. Srubek
Line-up 1.FCS B: Olšanský (46. Bartoš V.), Kočí (46. Pisar), Srubek, Divíšek (68. Stropsa) Kudela, Polášek Pernica (46. Obadal), Velecký (46. Kratochvíla), Rezek, Meleketsev (68. Juroška)