Women's loss to Slavia Praha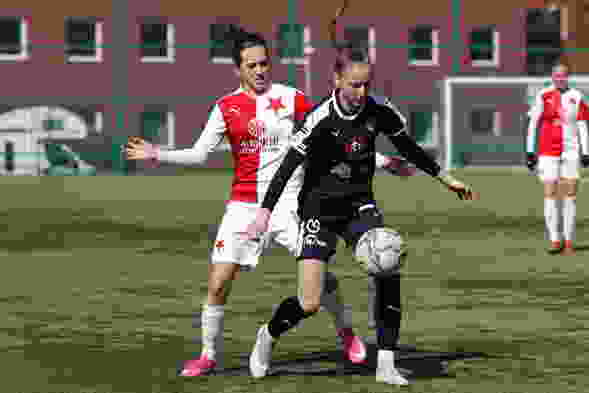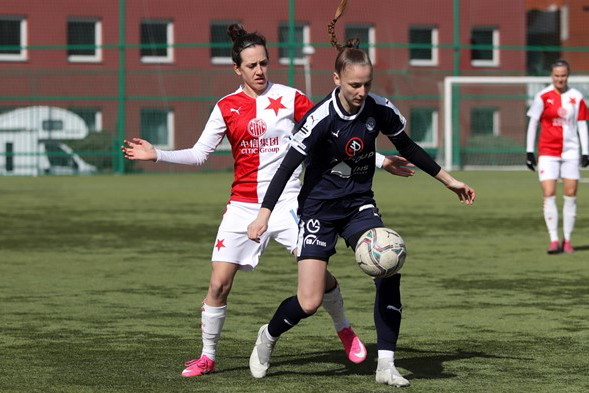 In the next round - for the fourth time in a row - we traveled to the opponent's ground for our match. This time our opponent was home Slavia Prague.
The first serious action of the match was performed by Krejčířová, who broke free on the border of the penalty area and scared the home team's Votíková, but she covered the shot twice. Unfortunately, right from the first serious action, the home players opened the score - our bad defensive position was used by Divišová, who ran behind the defense and passed the ball in front of the goal to a free Kožárová, who is not wrong in such moments - 1:0 for the home team. Then the game was played between the sixteen boxes, without any serious chances. Our shots were not dangerous for the home goalkeeper, on the other side Kožárová's shot went wide. In the 24th minute, the home players made their second breakthrough - after a mistake in our positioning, the opponent got to the center, which fell exactly to the home Divišová and she coolly increased to 2:0. Molková's shot went wide, so did Friedrichs' shot from a direct kick, our best chance was a corner kick when the home team's Votíková didn't keep the centre in her gloves, but we lacked the pace to finish the ball into the empty net. In the last ten minutes, the home team had the ball more on their feet, they had the opportunity for a penalty kick, but Růžičková defused it brilliantly. The half ended 2:0.
We entered the second half actively and we were close to a reduction - the substitute Dubcová had a good chance, unfortunately the home goalkeeper saved it for us. Soon the home team's Divišová threatened, her shot was pushed off the bar by Růžičková. In the 60th minute Huvarova got sent off and we had a 30-minute power play. The home players retreated to their own half and relied on breakaways, we tried to keep the ball more on our hoofs, which was successful, but in the last third of the field we were unable to make a significant breakthrough through the well-organized defensive of the opponent - except for a header by Krejčířová and a shot by Friedrichs we could not create a serious chance. On the other hand, the home players created several interesting breakout situations, but they also failed to score, so the match ended with the home team's victory.
12th round of the 1st Women's League
SK Slavia Praha - 1.FC Slovácko 2:0 (2:0)
Goals: Kožárová, Divišová
Lineup: Růžičková - Valášková (80. Furiková), Jelínková, Ohlídalová, Friedrichs - Janíková (46. Dubcová), Krejčířová, Holá (60. Sedláčková) - Molková (46. Janků), Waltrová (60. Pěčková), Střížová