Women beat Pardubice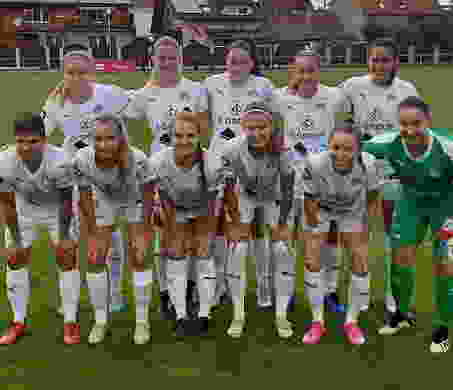 6th round of women's league - Sklovácko beat Pardubice
1.FC Slovácko - FK Pardubice 4:1 (1:1)
Goals: 21. Waltrová, 58. 24. Krejčířová, 90.+1. Dubcová
Line-up: Růžičková - Friedrichs (81. Valášková), Sedláčková, Jelínková, Janků - Dubcová, Krejčířová, Furiková (46. Janíková) - Dvořáková (81. Molková), Waltrová (71. Polášková), Pěčková (56. Blethen)
In the 6th round of the women's league, we hosted our opponents from Pardubice. In the beginning of the match Slovácko players tried to play a calm game from the defense and the opponent relied on quick counterattacks. Unfortunately, one of them came out in the 17th minute, when our defender tried to hit with her head a high ball, which she only extended, one of the Pardubice players was there earlier, she served the ball in front of the goal to a lonely Barbora Kubečková, who made no mistake. Four minutes later, Slovácko players struck when after a direct kick by Kristýna Janků, Klára Waltrová easily cleared the ball with her head to the bar - 1:1. Throughout the rest of the first half, Slovácko players tried to create scoring opportunities, but these efforts ended on the defence and the Pardubice goalkeeper.
The beginning of the second half was marked by duels in the midfield. Slovácko players managed to score an important goal in the 58th minute, when the centre from the left side was badly hit by the Pardubice defender, the ball was found by Eliška Dvořáková and she finished - 2:1. Two minutes later, a direct kick fell to Míša Dubcová, who just missed the left post. In the sixty-eighth minute, Eliška Dvořáková got a shot after a corner kick, but missed the goal. Two minutes later, Eliška Dvořáková tried again to beat the visitors' goalkeeper during a fast break, but she failed in this attempt as well.
On the other hand, Nela Krejčířová scored a great goal in the 77th minute, when after a shot from the boundary of the hexagon she did not leave a single spider in the net of Pardubice - 3:1. In the 89th minute, Aneta Polášková went for a long ball and was hit by the Pardubice goalkeeper with a knee shot about twenty-five metres from the goal. Míša Dubcová added the fourth goal from the following direct ball - 4:1 and sealed our victory.
Coach's evaluation
It was a difficult match for us, which we managed, but I am not satisfied with the performance. I don't know why, but we lacked commitment again. From the first minute we wanted to be very active, instead we were late everywhere. We had no rebounds, our opponents were getting chances after our mistakes in the middle of the field. Fortunately, we evened the score before the break and turned the game around in the second half. The second half was a bit better, but we will have to improve our approach to the game.